Interested in bringing along your toys, motorcycles, or a Smart Car in your travels?
Video Introduction to What we can Carry on our RVHaulers:
Introduction to Smart Cars – Have you Seen or Driven one Yet?
Deluxe Smart Car Bed Features
We custom build beds of various designs behind the sleeper. This large space can accommodate a Smart Car behind the sleeper. There are many designs, and budgets! We make the simplest Smart Car beds, with tool boxes.
BASIC SMART CAR BED

We commonly see beds that are fully enclosed (skirted) including bumper pull hitch, and four frame storage boxes.
DELUXE SMART CAR BED

IF you want to carry motorcycles, or other treasured toys, and avoid ramps, in the past we built the PHOENIX Hydraulic loader bed.
PHOENIX HYDRAULIC LOADER BED
The more boxes, complexity, and lights you want, the higher the price.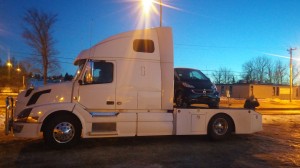 See a Build Video on how our PHOENIX Loader works:
Here is a video of how to load and unload a Smart Car:
See Tom Loading and Unloading:
PLEASE NOTE: many folks ask me if they can carry a vehicle length-wise behind the sleeper, and still tow the largest of 5th wheel trailers. Not everyone is enamored with the Smart Cars.
The important thing to note is we should be cautious going over 65 feet in overall rig length. The core issue you have to consider is "how long is my overall rig?" Almost every US state, and Canadian province requires that you be no longer than 65 feet long (front bumper of truck, to back bumper of trailer). You have the risk of a sharp-eyed sherriff pulling you over, and making you immediately disconnect your trailer. They force you to find a shorter truck to pull your trailer out of the state or province in question. Plus, they have various fines. However, there are many people that have been towing over-length rigs for a very long time, and have avoided any issues. The decision is yours if you wish to push the length issue.
Here is the formula you can use to do some rough calculations:
The measurement from the front bumper of the truck to the back of the sleeper is approximately 16 feet for a Volvo 780. (that leaves us 49 feet for trailer, and deck).
I need 5 feet of deck space to allow for the hitch connection, and to allow you to jack-knife the trailer. (that leaves us 44 feet of length for the trailer and deck)
If you want to carry a vehicle length-wise (perhaps a jeep that is 12 feet long), we start to run into length problems. We start to have a rig well beyond 65 feet.
We only need 7 feet of width for a smart car – that is why we usually make a 13 foot deck for a Smart and 5th wheel hitch. Then, subtract the depth of the drom box – 16 inches. That is why the smart cars are the most popular option – the let us tow approximately a 39 foot trailer.
SUMMARY: Most RVHauler rigs are over-length when connected to their trailers. People have traveled over-length for years without issue. However, it is a point to be aware of, and make your own design decision.