Photos of Our Trucks
Safe, Fuel Efficient, Luxurious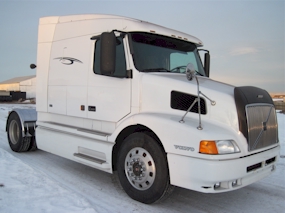 RVHAULERS – THE RIGHT SIZE
Volvo tractor units are the most popular units people choose as RVHaulers. The tractor units are well known for their quiet interiors, and their large roomy cabs. The cabs are the widest on the market. These sleek aerodynamic trucks look great with your 5er or 5th wheel behind.
We have standardized on white units-which can easily be striped to match your trailer.
Volvo 610, Volvo 630, and Volvo 730 s are easily recognized by their mid height sleepers
Turning radius is 8 feet smaller than a crew cab pickup!
Surprisingly, these trucks are only 12" longer than a crew cab pickup!
CUSTOMIZATIONS
There are many customizations that can be added to our base trucks. Many people choose to have a flat deck installed behind the cab. A standard 8 foot deck can carry a golf cart, small car, quads or a couple harleys and still pull your trailer. With an RVHauler, there is no need to purchase a toy hauler trailer. Keep your trailer full sized with living space, and carry the toys on the truck where the weight is no issue.
Easy to connect! All trucks can include rear view cameras
Seating customized to include rear captains chairs, or bench seating
Many of our rv pullers have the workstation configuration with a table and bench seating in the back sleeper
Don't forget to add the GPS navigation, and on-board computer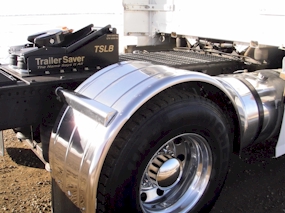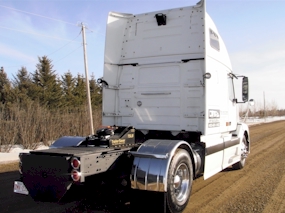 RVHAULERS – POWER, BRAKING AND CONTROL
These Volvo 670, Volvo 780 trucks with full height sleepers are very popular units. Two feet higher than the model 610 and 630s, these trucks come from the factory standard with dual bunks, refrigerator, and an optional microwave. Additional side windows, and skylight add considerable light and storage to the rear sleeper.
All trucks are equipped with either Cummins Diesel or Volvo Diesel Power
Engine brakes / jake brakes are standard, making braking and downhilling easy
All trucks come standard with air ride 5th wheel trailer hitches, and bumper pull hitches
Autoshift Transmissions – no clutch or stickshift,  Meritor and i-shift ishift models are common
400HP, 465Hp, 500 HP or more horsepower – 1500 to 1650 and more ftlbs foot lbs of torque – depending on model chosen
RVHAULERS – INTERIOR LUXURY
These trucks are designed to be driven all day, all week. When you sit in one of our trucks, you will immediately notice the superior seating and dash arrangement. There is very little dash difference between a pickup and our units.
8 way power air ride seats, 3 lumbar, and adjustable bolsters on most models
Tilt and telescoping steering, air bags, cruise control all at your fingertips
Huge heated power mirrors combined with large windows give great visibility
6 speaker stereo, satellite radio, optional 4 screen DVD, optional satellite navigation, optional tire inflation monitoring for truck and trailer tires